Welcome to the Binary Zone Interactive Internet Links section! As well as the links and a brief blurb about each site I've also included a banner for each section (quite a few of which were produced by little old meeee!) To visit any of the sites listed below simply click on the BANNER and as if by magic, a juicy new explorer will open up! If you have a site which you think should be added to this list of links then mail me!!

Links to C64 Related Sites

---
c64audio.com
Here we have the home of the last sonic underground where you can buy superb commercial quality CDs that feature C64 tunes which have been enhanced and remixed. The site features awesome releases like the 'Back in Time' range, Nexus 6581, Instant Remedy, Karma64, Project:Galway and many more! You can also now order the stunning new 'Back in Time Live' DVD which features professionally filmed C64 concert performances from two of the BitLive events.
---


The Fantasy Art of Oliver Frey
This is the offical website for the Fantasy Art of Oliver Frey. Here you can buy the amazing paintings that Oli produced for the covers of famous classic computer magazines like Crash, Zzap!64 and Amtix! You can also buy high quality limited edition prints signed by Oli, mugs featuring his artwork, mouse mats and more!
---

Remix 64
Here have an excellent site for all you C64 music remix fans out there. It's basically the home of the C64 music remixing community! The site contains interviews with C64 musicians and remixers, reviews of hundreds of C64 remixes (along with links so you can download them) and an excellent chat forum where remixers, musicians and C64 music fans hang out (myself included!)
---

The Wild Bunch - C64 Conversion By Jon Wells Now Available!
My excellent coding chum Jon Wells has recently resurrected his C64 conversion of the classic Firebird game 'The Wild Bunch'. Jon will be releasing a LIMITED EDITION version of the game on tape at the end of the year. To follow the progress of this great retro project click the banner above!
---

Sideways Shoot 'Em Up Construction Kit
Possibly the finest C64 game creation utility in the whole universe has had a 2008 upgrade courtesy of legendary C64 coder Jon Wells. Now you can create SIDEWAYS shoot 'em ups with SEUCK with the brand new 'Sideways Shoot Em Up Construction Kit'! For more info about the package and to download it for FREE click the banner above!
---

RGCD: The Essential Discmag For Retro Gamers!
RGCD is a polished CD-ROM based magazine containing the very latest retro reviews, features and developer interviews, providing its readers with an essential one-stop resource for all their retro gaming needs. RGCD's main focus is on the new releases for 8/16-Bit computer platforms, but they also dedicate a good percentage of their reviews and feature space to retro look-and-feel PC-based remakes and independent games. Recommended!
---

Cosine 8Bit Division
This is a very slick site lovingly crafted together by TMR of Cosine and is the home of the C64 division of Cosine Systems. The site contains details about Cosine releases and members, downloadable C64 Cosine demos, info about Commodore Zone + more. It's worth seeing just for the nice presentation!
---

Commodore 64 Art in Todays PC Resolutions
What would C64 graphics look like if the little beast was capable of kicking out PC resolutions ? Click the banner above to find out! Kudos to me old mate Matrix for putting together this very stylish site featuring plenty of old-skool bitmap love!
---

Commodore Apocalypse
This great site is run by Compunet hero Mike 'Kernal' Berry. It's really nicely presented with an excellent use of C64 sprites and graphics. The site contains plenty of interesting info and fun things to do. Well worth a peek.
---
SLAY Radio
Here we have what is basically the best online C64 radio station in the whole world, EVER. Streaming classic Commodore 64 remixes 24 hours a day and now featuring a tasty new redesigned site! You can tune in using Winamp - click the banner above and visit the site which features a list of available streams.
---

High Voltage SID Collection
Would you like over 30,000 C64 tunes which can be played on your PC using SidPlay? Then what you need is the "The High Voltage SID Collection"! This is easily the best (and most expansive) SID collection that is currently available on the Internet and new tunes are being added all the time.
---

Games that Weren't
This superbly presented and extremely comprehensive site from Frank Gasking features long lost C64 games. There's info on many rare game titles and you can actually download and play a lot of them!
---

C64Endings.co.uk
Ever wondered what was at the end of your fave C64 game? Tired of wrestling with your joystick (oo-er) while attempting to defeat that darned end-of game bad-guy - only to be trodden on and lose your last life before you can glimpse the ending? Then have no fear, my good chum Vinny Mainolfi is here! His great website contains loads of C64 game endings that you can download and watch until your hearts content!
---

Protovision
Protovision offer a fantastic range of commercial quality C64 games and are constantly releasing new titles for our beloved beige breadbin. They have recently released the amazing 'Metal Dust' which is the world's first C64 SuperCPU game! Click on the banner above for more details about their superb range of products.
---
Mayhem's Magic Dust
Mayhem, the cutest baby dinosaur ever to set foot in Monsterland is BACK in an all-new adventure on mobile phone platforms! Produced by John & Steve Rowlands, the same team that brought you the classic C64 version of 'Mayhem in Monsterland'! Click the banner to visit the excellent site featuring gorgeous pixel graphics by Steve Rowlands! For details of other projects from the Apex boys visit their Infinite Lives site.
---

StudioX64
Here's the latest incarnation of "XLCUS" software - the "Home Of Those Crazed Idiot Software Coderz!" (as the old site used to say!) This new site features some nice musical dabblings from "icklePaul" along with downloadable games and various other goodies.
---

The Commodore Zone
The Commodore Zone is a website dedicated to the Commodore 64 computer. Its purpose is to provide you with the best 64 emulators and games available. T-C-Z is updated on a monthly basis and features plenty of interesting C64 related content.
---

c64retro.com
Here's a great site filled with retro goodliness from my chum "The Mighty Boz"! It contains a nice selection of C64 tunes remixed by Boz along with assorted other tasty titbits. Well worth a surf!
---

The Last Ninja Archives
This excellent site is devoted to the classic 'Last Ninja' series of games from System 3. It features loads of Ninja related goodies including news about 'Last Ninja 4', artwork from the games, Last Ninja music and much more. This site is definitely well worth a look if you are a fan of this superb games trilogy.
---

Llamasoft - Home of the Virtual Light Machine
A fabulous site from the hairy beastie known as Jeff 'Yak' Minter! He was responsible for oodles of classic C64 games including 'Attack of the Mutant Camels', 'Batalyx' and 'Iridis Alpha' etc. etc. Visit his site for games, fluffly sheepies and other assorted weirdness ...
---

The Homepage of Johan 'Zyron' Åstrand
Here we have the homepage of the prolific C64 musician Johan "Zyron" Åstrand. There's LOTS of his great music to download (including plenty of nice Mpegs) and I particularly like the C64 tunes which he has enhanced with extra drum beats etc. Well worth an explore!
---

Ian + Mic
Do you remember the cool Compunet duo Ian + Mic? I darn well hope so cos they put out some cool demos, ran a great PD library called "Wicked PD" and are, in a roundabout way, responsible for Binary Zone PD coming into existence! One half of the dynamic due, Mic Jones, has put together this splendid website which contains oodles of info about Ian+Mic along with some downloadable warez. Note: The website requires Java and Shockwave support.
---

The SoundWavers
The SoundWavers have produced some extremely impressive C64 remixes which are available in mp3 format for download from their great website. I was amazed with the 'Cher' style vocal effects in their mix of Mega Apocalypse and since then they have released more great C64 remixes including a Kraftwerk inspired version of Hawkeye (YESS!), a brilliantly bizarre mix of Fairlight + more!! Note: The website is presented using MacroMedia Flash technology.
---

Remix.Kwed.Org - The Definitive Guide to C64 Remakes
If C64 music remixes are your thing then you really should check out this great site. It features HUNDREDS of cool C64 music remakes with new tracks being added all the time. The site is nicely laid out and is very easy to navigate so you shouldn't have too much trouble finding remixes of all your fave C64 choons. And if it's C64 remixes on CD you are after then don't forget to check out c64audio.com!
---

The SEUCK Vault
The aim of the SEUCK Vault is to gather together the very best games created with SEUCK on the Commodore 64 and the Amiga. The site contains a great selection of games you can download by SEUCK heroes including Frank Gasking, Shaun Pearson, The Art Ravers + many more!
---

LEMON - For C64 Reviews, Cover Scans and SID Music!
This excellent site is very nicely laid out and features gallons of classic C64 games (over 2500!) which you can download (including some obscure titles), a plethora of game covers, C64 game reviews + much more. Definitely worth a visit if you're a C64 gamer!!
---

Zzap64.co.uk - The Def Guide to Zzap!64
Here's a cool site put together by an old pal of mine, Iain Black. It contains bags of info about my all time fave C64 mag - Zzap! 64 along with info about various other C64 mags (Your Commodore, Commodore User, Commodore Format etc.) There's also gallons of C64 files which you can download. Great stuff!
---

Retrovision
Retrovision is a hands on retro gaming event that lets you get to grips (literally) with classic retro gaming machines from Commodore, Atari, Sinclair and Apple etc. Visit the Retrovision website for full details about forthcoming events, photos and reviews of past events, info about the team, a cool screensaver and more!
---

Oldschool Gaming
Oldschool Gaming is yer one-stop shop for new games on classic platforms and 'retro' titles for modern hardware. OSG is a combined review site for new titles on machines like the Commodore 64, Sinclair Spectrum and Atari 2600 as well as a resource site for would-be oldschool developers.
---
Other sites worth a peek!


The Bits Grab Fest
This is a little 'pet project' of mine. As I couldn't find any sites which contained decent pics of the girls who present the Channel 4 show 'Bits' I decided to make my own! There's quite literally HUNDREDS of pics of the girls on the site so far and I'll keep adding more (as and when I get them!) You may notice a SLIGHT bias towards Emily 'Bouff' Booth - this is because she was the reason I made the site in the first place!!
---

Preferred Image
Here's where you can find some examples of rendering work done by my buddy Mat Recardo. Mat has helped me out a great deal with the construction of the BZ site and has produced some of the nice logo's and animated thingies scattered around these pages. Mat actually produced all the CGI scenes (and some digital editing) for my Xmas Chortles 2 movie which is NOW AVAILABLE ON DVD at long last!!
---

Thalamus Interactive Design
Thalamus Interactive Design has an affinity for artists and small-business owners. They are the blood of a creative and imaginative society.   We are them.  Whether you are an entrepreneur, visual artist or musician, we are determined to design content that is as unique as you, and committed to constantly improve the result.
---

Redshift
This site contains info about British synth musician Mark Shreeve's 'Redshift' music project. Mark has produced plenty of awesome synth tracks in the past and the classic analogue sounds used on the 'Red Shift' CD's kicks ass! Definitely worth a visit if synth music is your thang.
---

The Unofficial 11 O'Clock Show Website
And talking of Simon Bailey, here's his 100% Unofficial 11 O'Clock Show website which is packed with stuff about ... wait for it ... The 11 O'Clock Show!! There's facts about the show, the people who appear therein and, more importantly, oodles of stuff about the delicious Daisy Donovan (and pics too!) What more could you possibly want?!
---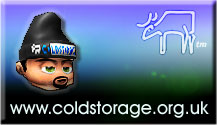 Cold Storage
This rather fine website comes courtesy of my chum Tim Wright who was responsible for many a fine computer game theme (including classics like Shadow of the Beast 2 and 3 and WipeOut!) The site contains oodles of excellent quality mp3's and Amiga mods that you can download totally for free and Tim has even remastered many of his tracks specially for the website!
---
Return to the main section.