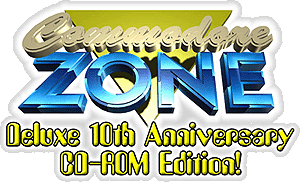 Happy Birthday Commodore Zone!!

Yes folks, believe it or not, it has now been over 10 YEARS since issue 1 of Commodore Zone was first unleashed onto an unsuspecting world! And to celebrate the 10th anniversary of Britain's funkiest C64 fanzine we've put together a deluxe Anniversary CD-ROM which features the following: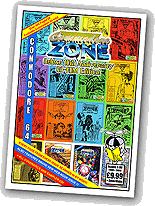 • All 16 issues of Commodore Zone scanned in by Mort!
• D64 disk images of every single Commodore Zone coverdisk
• Every single PD disk which was reviewed in each issue!
• Bonus software including rare CZ tape intros + CZ Demopack!
• High quality mp3s of the tracks featured on the CZ Sampler CD!
• A 100% digital Web-Book* edition of CZone issue 1!
• Packaged in a DVD box with new custom-produced artwork!
All this for only 9.99!

You can order your copy of the Commodore Zone deluxe 10th Anniversary CD-ROM NOW from the Binary Zone Retro Store by clicking the banner below.



* What is a Web-Book? Basically, what you get is the whole issue of Commodore Zone in one .EXE file. It displays the mag on your PC screen and the pages literally 'turn' like a book when you click each page. Every single page has been re-typed and reconstructed for the Web-Book edition with improved layout and full-scolour screenshots!


Looking for The Commodore Zone.com website? Click the banner above!

What is Commodore Zone?
Commodore Zone is a paper-based magazine devoted to supporting the C64. The magazine was originally designed as a replacement for the mainstream magazines which have now unfortunately all disappeared off the shop shelves. Each issue comes in the form of an A5 booklet which is centre stapled and has a laminated coloured card cover. The mag features a variety of different features including news, game and PD reviews, interviews with C64 celebs, programming features and much, much more.

Why is the mag A5?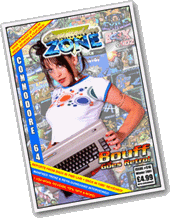 There's various reasons why we chose to do an A5 mag (half the size of A4) rather than the more usual A4 style. Firstly, it's a lot easier to post an A5 booklet rather than a bulky A4 magazine. With Commodore Zone being a 'mail order' C64 mag it made sense to do it in the form of a booklet. I've received many A4 fanzines in the past and some of them arrived totally wrecked! (CZone is always sent out with a piece of card to protect it). Being A5 also meant we could include more pages in each issue. The very first issue features 40 pages in total - compare that to the last ever issue of 'Commodore Format' which contained a pathetic 24 pages! You aren't missing out anything with the Commodore mag being A5. The masters are actually designed as A4 pages and then it's shrunk down before it's printed!

Is there a covermount?

There certainly is! And now you can download every single Commodore Zone coverdisk completely FREE of charge from this site. We've converted all the coverdisks to .D64 disk images and each disk can be downloaded from the sections devoted to each issue of Commodore Zone. Use the menu below to view the details about each issue of the mag. The .D64 disk images are compatible with most (if not all) of the popular C64 emulators that are currently available. We no longer send out coverdisks with the magazines which is why you can download them for FREE from this site. The original 5 " floppy disks and C64 tape covermounts have now been discontinued.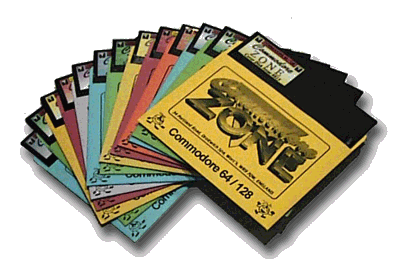 How many issues are available?

Sixteen issues of Commodore Zone were produced in total. Scans of every page from every issue can be found on the Commodore Zone 10th Anniversary CD-ROM featured above! The paper versions of the mag have now been discontinued but you can find out what was featured in each issue by clicking the links below.




Commodore Zone Issue 1
Commodore Zone Issue 2
Commodore Zone Issue 3
Commodore Zone Issue 4
Commodore Zone Issue 5
Commodore Zone Issue 6
Commodore Zone Issue 7
Commodore Zone Issue 8
Commodore Zone Issue 9
Commodore Zone Issue 10
Commodore Zone Issue 11
Commodore Zone Issue 12
Commodore Zone Issue 13
Commodore Zone Issue 14
Commodore Zone Issue 15
Commodore Zone Issue 16



"I think it has the spirit of Zzap!" - Chris Abbott.

Credits for this section:-
CZone logo & background by Jason Kelk.
Opening quote from Vinny Mainolfi.




Looking for The Commodore Zone.com website? Click the banner above!
Return to main section.