Welcome to the Binary Zone Top 20 Babes section! The good news is this page has been updated at long last - the bad news is this is unfortunately the last ever time I'll be updating this page. I'm all grown up and responsible these days (yeah right!), with a house, busy job etc. But as I've been giving the Binary Zone site a complete revamp and overhaul I thought "What the heck!" and decided to update this page one last time. This update is slightly different however - it's more of my "Top Twenty Babes of All-Time", which features lovely ladies that have caught my roving attention in the past (from many years ago right up to some fairly recent additions) Please note that these are my PERSONAL choices and this page has been done just for fun. Hokay, that's enough waffling from me, let the eye-candy commence ... !

20. Kim Basinger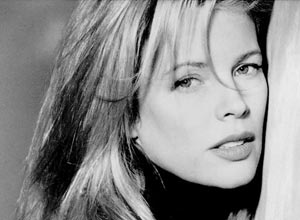 When I was much younger I absolutely *loved* blondes. Which is probably why I fell in love with Kim when I first saw her in the James Bond movie 'Never Say Never Again'. This caused some fine pictures (and a superb massive poster) of her to appear on my bedroom walls for many years! Other memorable movies which featured Kim are 'My Stepmother is an Alien', 'Batman' and her saucy flick '9½ Weeks' - which I also love because it features 'Arpeggiator', one of my fave Jean-Michel Jarre tracks!

19. Lara Croft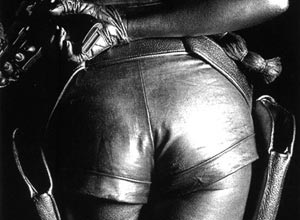 When the first Tomb Raider game came out I was totally blown away by it. The game itself was excellent (it's similarity to 'Prince of Persia' made me an instant fan) and Lara was just such a damn cool character (especially with her big polygon bazookas!) The later Tomb Raider games didn't do all that much for me, they lacked the unique atmosphere of the original in my opinion, but Lara still rules! The great picture of Lara's ARSE on this page was sent to me by my chum Ross Sillifant - cheers matey!

18. Jeri Ryan (Seven of Nine)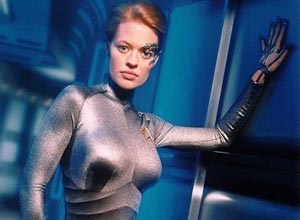 Assimilating the 18th place (there, that's the obvious Star Trek gag out the way) is the lovely Jeri Ryan ("Babe of Borg!") She certainly gave Star Trek Voyager a much needed kick up the arse when she appeared and her bolt-on Borg implants made sure I never missed an episode. I wouldn't mind "beaming her up!" ... (I'll get my coat).

17. Tanya Roberts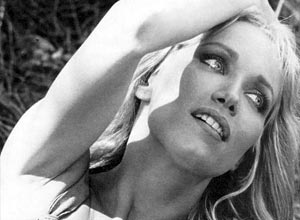 Blimey, this is going back a bit. Tanya was another (blonde) Bond girl who originally caught my attention in 'A View to a Kill'. Her place in my all-time babes list was assured when she starred (and looked bloody gorgeous) in the movie 'Sheena' - wearing just a few teeny bits of leather to hide her bodily bits. Excellent stuff!

16. Glynis Barber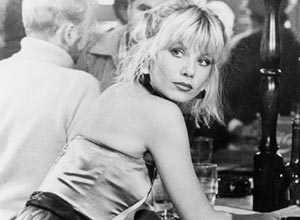 Here's another real blast from the past! Glynis played the part of the lovely 'Makepeace' in the cool UK cop show 'Dempsey & Makepeace'. She was a definite babe in that series, with her distinctive hairdo and classy english accent. I recently bought a 'Dempsey & Makepeace' video to see if the series was as good as I remembered - and it was! Plus it had the longest title sequence in the whole world, ever!

15. Posh Spice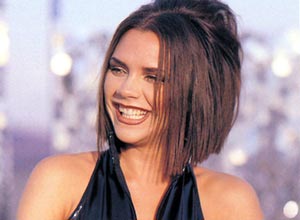 When the Spice Girls first made an appearance (and a lot of noise) I was instantly smitten with Victoria. She had a dazzling smile (which she tried to keep hidden), the classic 'bob' hairdo and those long, loooong legs! She definitely made their music videos worth watching. But then it went all 'Pete Tong' when she married a footBORE player and the group split up. Now she's just famous for being married so some bloke with daft hair who runs around on a field after a ball. Shame.

14. Aleks Krotoski & Emily Newton Dunn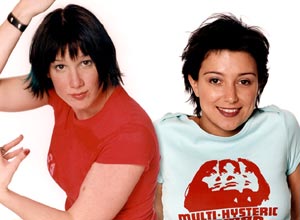 How could I have an all-time top 20 babes list and not include these two gamer girls?! Both were presenters of the excellent Channel 4 game review show 'Bits' (one of my fave TV shows - ever!) I actually got involved with the show during the fourth and fifth series and have been lucky enough to meet the gals on a few occasions - and can safely say Aleks is the coolest girl I've ever met and Emily is even prettier in real life than she is on the telly! But where is the OTHER Emily I wonder ... *grin!* :)

13. Sherilyn Fenn
I was a HUGE fan of 'Twin Peaks' when it was being shown on BBC2. Not only was it a DAMN FINE and splendidly weird show but it also featured a host of lovely ladies including the incredible Sherilyn Fenn! A massive poster of her adorned my bedroom wall for MANY years (in fact, it's still there now!) which you can see by clicking HERE.

12. Gillian Anderson (Dana Scully)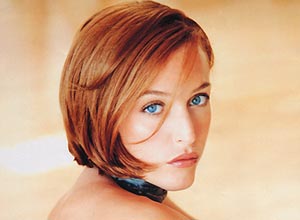 I went through a MASSIVE 'Scully' phase when 'The X-Files' was at it's peak - although I actually wasn't too keen on her when the series first started. She grew on me as the series progressed and then became responsible for me going through a bit of a red-head phase! I used to have a great 'wet hair' Scully on my wall which you can see by clicking HERE (it's near the middle of the picture).

11. Darcey Bussell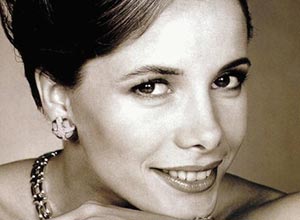 Here's what can only be described as "posh crumpet". Her name SOUNDS posh, SHE sounds posh and she actually IS posh - a prima ballerina no less. I think the first time I saw Darcey she was on 'Blue Peter' (not that I actually WATCH that show of course, my eyes must have been accidentally facing the TV screen when it was on). Anyway, I've been an admirer of hers ever since.

10. Dot (ReBoot)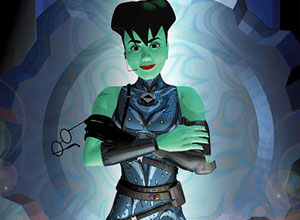 Dot is a bit of a strange choice for such a high placing in the charts ... After all, she's GREEN and she doesn't exist! But hey, she's still a babe! In fact, the animators on the show have admitted that they fancied her too! Hehe! The show itself was absolutely genius and featured tons of gags and spoofs of various famous shows like Star Trek, Star Wars, the X-Files, James Bond etc.

9. Kylie Minogue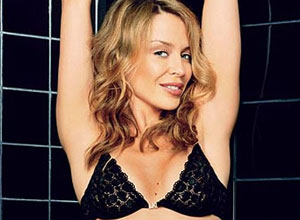 Probably a bit of an obvious choice for my babes list, but hey, who DOESN'T like Kylie? I must admit she's become far more interesting recently with her increasingly revealing pop videos. The fact that she now sells (and models) her own range of lingerie is the cream on this particularly yummy cake.

8. Gates McFadden (Dr Beverly Crusher)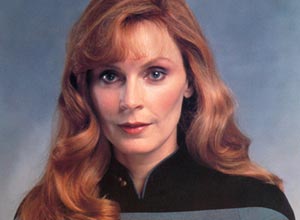 Set eyes to STUN! Dr Bev seemed to get more gorgeous in each new series of Star Trek:TNG. I must admit she looked a bit dodgy in the very early episodes but by the time she appeared in the Generations movie she looked stunning! I think this must have had something to do with the 'red-head' phase I went through!

7. Mädchen Amick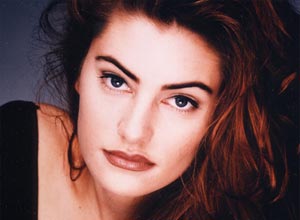 Here we have the gorgeous Mädchen Amick who seems destined to exist in my babes list for all eternity. She first caught my attention (in a BIG way) in the excellent series 'Twin Peaks' in which she played waitress Shelley Johnson. She was also in the pilot episode of Baywatch and the Stephen King movie 'Sleepwalkers'. Top babe!

6. Anita Dels (2 Unlimited)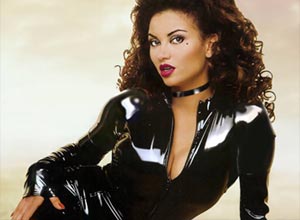 Also known as Anita Doth the singer from 2 Unlimited caught my attention when they released the single 'No Limit'. I was instantly a huge fan - especially of their music videos! Ahem. Anita has her own website which you can visit by clicking HERE.

5. Diane Youdale (Jet / Gladiators)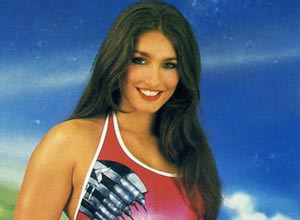 One word can sum up Jet ... "FIT"! She was definitely 'the pretty one' on Gladiators and her long dark hair and athletic body (squeezed into skin-tight lycra outfits) made her a good reason to tune into the show. I *almost* met up with Jet when she was doing a signing session with scary-bloke Wolf in a nearby town but the huge crowd and resulting massive queue for autographs foiled my chances in actually meeting her. Ho hum.

4. Natalie Portman
Still right up near the top of my babes list is the beautiful and highly talented Natalie Portman. As well as being a fine actress she is also eye-candy of the highest order with her Hepburn-esque beauty making her shine every time she's on the big screen. She's also pretty handy with a blaster (as she proved in Star Wars Episode II!)

3. Michaela Strachan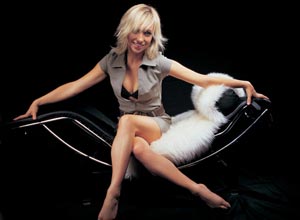 I think Michaela must have been the first ever 'babe off the telly' that I had a crush on. I can still remember when I first saw her - it was on 'The Wide Awake Club' and she was taking part in a daft 'Marco Polo' sketch. This was way back in 1988! Anyway, I was instantly besotted and made a point of trying to watch everything she appeared in - including the awful 'Hitman & Her' with Pete Waterman (essential viewing for a clubbing teenager like me!) She's still a top babe today as this recent photo shows!

2. Emily 'Bouff' Booth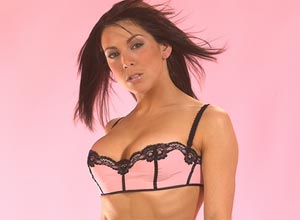 I originally spotted Emily on TV when she was presenting the Channel 4 computer game review show 'Bits'. I got instantly hooked and became a massive fan of the show - and even produced my first ever 'fan site' - the Bits Grab Fest. This led to me getting involved with the show and was lucky enough to meet Emily at the Bits series 5 launch party. We worked together on some bits (hoho!) for the last series of the show and when it ended I offered to set up an official website for her - www.emilybooth.co.uk - which is still going strong today. Emily is now concentrating on her film and TV career while I keep her fans happy with stunning photos like the one above.

1. ?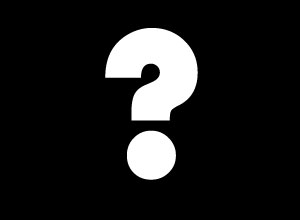 So who is my number one babe???

So there you have my all-time top 20 babes list. If you would like to comment on the list, send me your own top ten lists or anything like that then chuck me some email!

The C64 Banner Exchange