I've been a fan of the graphics of ZX Spectrum artist F. David Thorpe for many years now. I always loved the colourful and detailed loading screens that he drew for ZX Spectrum games released by companies like Ocean Software, Imagine and US Gold etc. There doesn't seem to be hardly any mention of Davids work on the Internet apart from an incomplete credits list on the World Of Spectrum site so I thought I would put together a webpage not only as a tribute to Davids great work on the ZX Spectrum but also as an archive of his pictures that hopefully fellow fans of his work will find of interest.

I've divided this gallery into four sections - Ocean games, Imagine games, US gold games and Miscellaneous. Each section contains confirmed works by David where he is either credited on the screen, in the game information or in the Crash 'On The Screen' feature which is included at the bottom of this page. The galleries also contain pictures that David has now personally confirmed that they were drawn by him.



I'm very pleased to announce that F.David Thorpe has contacted me after finding this webpage! He is very much alive and well and is still in Manchester (where the mighty Ocean Software empire was also based). David has very kindly confirmed that all the pictures on this page WERE drawn by him so I have updated the page accordingly. Also, look out for some interesting bits of trivia from David on this page too.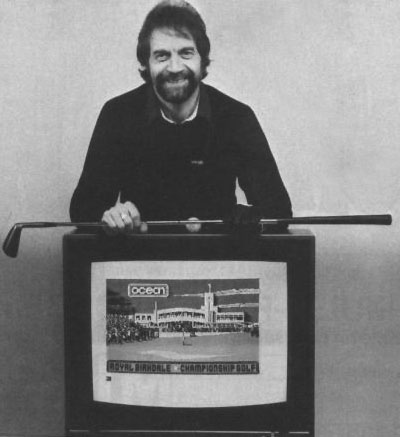 F.David Thorpe photographed in 1985 by Paul Francis





Ocean Software Pictures
(Confirmed to be by F.David Thorpe)

















Imagine Games Pictures
(Confirmed to be by F.David Thorpe)









US Gold Pictures
(Confirmed to be by F.David Thorpe)













Misc ZX Spectrum Pictures
(Confirmed to be by F.David Thorpe)



Trivia: The tranquil lake scene above is from the game Jack Charlton's Match Fishing.





F.David Thorpe Pictures
(De-Clashified!)

Now here's an interesting idea. Binary Zone chum Andrew Laggan has sent me some F.David Thorpe loading screens that he has 'de-clashed' (I.E. Removed some of the attribute problems). This is how the loading screens would have looked if the Speccy wasn't restricted to two colours per 8x8 square. To compare the de-clashed pics with the original versions simply roll your mouse over the images below.











Amstrad CPC Screens
(Confirmed)

In the Crash magazine 'On The Cover' feature (see below) David mentions at the end that he has just started working on the Amstrad CPC. His name can be seen on the excellent Head Over Heels picture and David has now confirmed that he also produced the RAID picture.






"4 COMPUTER BUFFS"
(David Thorpe Interview)


(Thanks to David Tolley for sending me this great footage!)

Trivia: David Thorpe was particularly pleased to see this video on this page as he had lost his own recording of it.
The intro sequence was coded by Paul Owens (as stated) along with Mike Webb and Jonathan 'Joffa' Smith.

"It was a bit of a shock to see myself at the age of 45 as I have just reached 70 !" - F.David Thorpe.





CRASH MAGAZINE
(On The Cover Feature)

(Click the images above to view larger versions)

Trivia: David was a bit annoyed when Crash published this interview as
the CRASH screen in the centre picture was NOT drawn by him!





F.David Thorpe Interview (June 2010)

And now here's a real treat for all you people who are still interested in Davids work on the ZX Spectrum (and I know there are loads of you out there) - here's an interview with F.David Thorpe conducted in 2010! Many thanks to David for kindly taking the time to answer this selection of questions posed by myself along with various other fans of his work. Read on!

Q: In the 4Computer Buffs interview you mentioned that you drew your loading screens on squared paper before converting them to the Spectrum with Melbourne Draw. Were all your loading screens drawn this way or did you ever use any other methods or art packages?

A: I always drew my loading screens on squared paper before converting them to the Spectrum with Melbourne Draw.

Q: Did you keep the original loading screen designs that you drew on squared paper and have you ever thought of making scans available online? I'm sure lots of people would be interested to see them.

A: I regret that after much searching I find no record of my original designs.

Q: Were you always supplied with the game artwork to work from or did you have to come up with any designs from scratch?

A: I was not always supplied with artwork for my designs,from memory my designs from scratch were done on CONVOY,SHOW JUMPING,WINTER GAMES,ROYAL BIRKDALE and RAID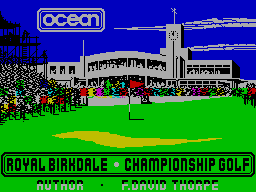 Q: How hard was it to convert the game artwork onto the spectrum - bearing in
mind the Spectrum screen ratio and the colour limitations etc.?

A: In many cases it was difficult to convert game artwork onto the Spectrum,bearing in mind the 2 colour limitation on an 8 by 8 pixel square.The Amstrad CPC was much more flexible with an individual pixel colour available.

Q: Which Spectrum loading screen was technically the hardest
to create and which was the easiest?

A: Daley Thompsons Decathlon was technically hardest to create due to the colour limitation mentioned above.The intertwining Olympic rings were a real challenge but I got there in the end.The easiest was the WINTER GAMES screen simply because it was my own design and I had a blank canvas,so to speak.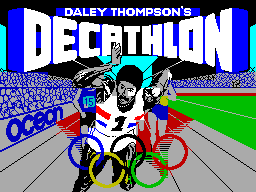 Q: Which of all the spectrum loading screens is your personal favourite
and which is your least favourite?

A: My favourite is RAMBO because it was so well received at Ocean Software,as they actually applauded when I produced it on screen for them. I don't like the HUNCHBACK II screen as I struggled to get it like the artwork.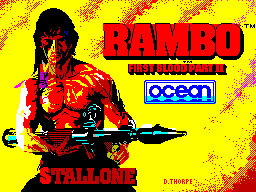 Q: Generally on average how long would it take for you to create each
loading screen from start to finish?

A: It took me approximately 20 hours to produce a Loading Screen,the drawing out of the design on squared paper taking the majority of the time.

Q: Being such a prolific artist were you ever commissioned to create the packaging artwork for Ocean, Imagine or US Gold?

A: I was never commissioned to create packaging artwork for Ocean, Imagine or US Gold.

Q: What was the last computer game artwork you produced
and do you still work in the industry today?

A:I think my last commission was Up'n'Down. The reason I left the software industry was the introduction of digitizing,when any skills I had acquired were no longer required by the software companies.

Q: Did any other companies try to poach you away from Ocean/Imagine/US Gold as your loading screens were far superior to others being produced at the time?

A: I was totally freelance so I was able to work for any software company.

Q: Did you actually get to play the games that you were creating graphics for and if so, which ones did you enjoy playing the most? Also, did you receive free copies of the games you created graphics for?

A: I didn't receive any free games,and I didn't play any as I was too busy.

Q: Do you still have any of your old computers/software that you used to create your graphics?

A: I don't have any of my old computers or software packages.

Q: The picture you did for FLAK! (1984) was similar to your Raid Over Moscow picture (1985) Is there any particular reason for this similarity?

A: FLAK and RAID OVER MOSCOW had similar artwork as far as I can recall.

Q: Some of your Spectrum screens were also used in the C64 versions of the games (Hunchback 2 and Kong Strikes Back for example) - and on the Amstrad CPC (Batman and MOVIE). Did Ocean pay you extra when they used your screens on more than one version of the same game?

A: I was never paid more than once for each individual screen I produced.


Q: Some of your Spectrum screens were also ported to the Amstrad CPC but they looked pretty awful as they were displayed in multicolour mode so some of the images were stretched sideways - did you see any of these (Daley Thompsons Decathlon, Bruce Lee and Beach Head for example?) and if so what did you think of them?

A: The Amstrad screens which were ported from the Spectrum were awful and I really disliked them at the time.


Q: Was it only the ZX Spectrum and Amstrad CPC that you created graphics for or did you work on any other computers? And which system did you most enjoy creating graphics for?

A: The ZX Spectrum and the Amstrad CPC were the only ones I used. I enjoyed the challenge of the Spectrum but the Amstrad was a much better prospect,and then just when I was relishing the prospect of more commissions it all came to an end.

Q: You seemed to stop doing Spectrum graphics after 1987, did you do any more graphics for games after this time and did you ever do any graphics for 16-Bit systems (the Amiga for example)? If not then what did you do next?

A: I stopped after 1987 and returned to architecture,which had its own rewards,as I produced QUAY WEST which is a prestige office building located next to the Imperial War Museum North on the banks of the Manchester Ship Canal.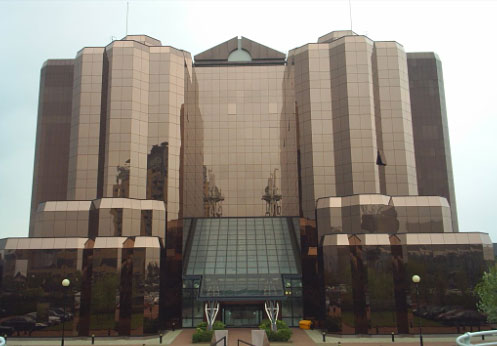 Photo © Chris Wainwright

Q: Have you considered drawing any more screens on the Spectrum now that emulators and utilities have made using a Spectrum much easier and more accessible?

A: It might be fun to have another crack on Melbourne Draw if you could provide the necessary equipment.

Q: Did you see many loading screens by other people or companies during the time you worked with the Spectrum? Did you have any particular favourite Spectrum artists that impressed you? Also, did you see any of the later loading screens used in games released by Ocean after you left? And if so, what did you think of them?

A: I never noticed any serious competition,perhaps I didn't look hard enough.

Q: How many games did you also produce in-game graphics for (sprites or backgrounds etc.?) I believe you created sprites for Hunchback 2 and also did the background graphics for Winter Games & World Games. Did you enjoy producing sprite animations for did you prefer creating loading screens?

A: I did enjoy producing sprite animations and background graphics,particularly Winter Games screens.The most interesting games sprites were the figures in Showjumping for Alligata Software, however the Loading Screens were the most satisfying.


Q: In the Crash "On The Cover" feature you mention that you have drawn the loading screen for Up 'n' Down. Does this screen still exist as the game was never released in the end? And did you create any other loading screens that weren't used in the end?

A: I don't have any record of the Up'n,Down screen, and all my other work was used.

Q: Believe it or not, people are still using the Spectrum and are creating amazing new releases that really push the limits of the machine. Have you seen any of the graphics being created on the ZX Spectrum nowadays for demo releases and new games?

A: I haven't seen any of the new releases for the Spectrum.

Q: Do you still work as an artist or designer in any form nowadays or have you now retired?

A: I have now retired, although I do produce a drawing now and then.

Q: What was your reaction when you first saw the David Thorpe
tribute page on the Binary Zone site?

A: I stumbled across your tribute page and I was very touched to think that anybody was interested in my work after all this time.

Q: And finally, something I've been wondering for years - you sign a lot of your pictures F.David Thorpe. What does the F stand for?

A: The F stands for Frederick, not Fred please!





Now you can view the F.D.Thorpe pics on a Commodore 64!

The C64 is equipped with a hi-res graphics mode called 'Standard Mode' which is similar to the Speccy display (although the C64 screen has a slightly larger resolution - 320 x 200 pixels). Anyway, I thought it would be a nice idea to convert the brilliant F.D.Thorpe pictures from the Speccy into C64 standard mode screens. I did this using the "Vidi-ZX" transfer system pioneered by my C64 coding chum Jon Wells. The C64 colour palette is fairly similar to the default 8-colours of the Speccy (although not quite as vibrant!) and with a clever bit of tweaking you can also emulate the Speccy "Bright" mode using some of the extra colours in the C64 palette. You can download the C64 F.D.Thorpe picture gallery by clicking the link below. The Zip file contains two .d64 disk images that are compatible with all popular C64 emulators including WinVice and CCS64. Enjoy!

** Click HERE to download the F.David Thorpe C64 Picture Collection **
[195KB Zipped .D64 Disk Images]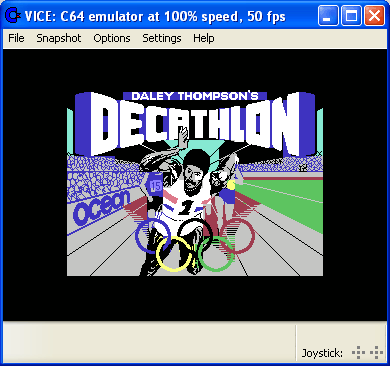 Return to the main section