Issue 7 of Commodore Zone is packed with over 40 pages of essential features for C64 users! This issue features the second part of our exclusive interview with Martin Galway, one of the finest C64 musicians of all time. An eagerly awaited Binary Zone release is previewed in the PD Zone and we reveal how to find the hidden parts in classic demos like Tower Power (Camelot) and Coma Light 12 (Oxyron). Simon Hillam looks at 1984 in his 'History of the C64' feature and Waz reviews a myriad of C64 tunes in his biggest 'Covenant & The Sword' music feature ever! Andy Roberts unearths another couple of celebs for his 'Where are they now?' article and there's also news, reviews, games tips and awesome action from Alf Yngve's 'Genetic Ninja'! This issue contains 44 pages in total.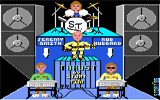 The covermount contains cutesy gaming fun with 'Cleo the Dog' by Carl Mason and building squashing japes with 'Blitz' from Cyber Systems. There's also the classic 'Thrust Concert' demo, Jack's Dance (FeekZoid), Commodore Zone Directory 2 (Cyber Systems), Get a life #5, the 'Covenant Music Selector', 'Island Adventure', 'Look Sharp!' (Contex), the 'Atari 2600' demo + much more.

Click here to download the two CZone #07 covermount .D64 disk images for FREE!
(The two emulator compatible .D64 disk images feature all the programs detailed above - 293kb .ZIP)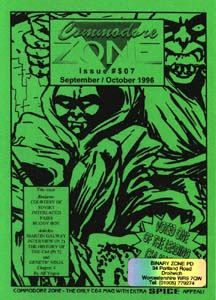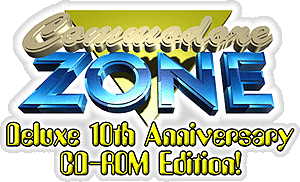 This issue of Commodore Zone is now available on the Commodore Zone deluxe 10th Anniversary CD-ROM along with all the other issues + bonus extras! You can order your copy of the Commodore Zone deluxe 10th Anniversary CD-ROM NOW from the Binary Zone Retro Store by clicking the banner below.




Return to the main Commodore Zone section.