The tenth issue of CZone is quite literally bursting at the staples with more C64 features than ever before in a bumper issue which features a massive SIXTY pages in total!! In this issue the legendary Rob Hubbard talks to us about his incredible C64 music in a five page interview & some hot new PD releases are reviewed in the PD Zone including a stunning new demo from Graham of Oxyron ... We also have news on a superb new upgrade for GEOS, more info on the C64 audio music CD, classified ads, part 7 of the Hex Files coding course, more retro reviews in the Games Archive and 1987 is spotlighted in the History Of The C64. Two C64 emulators are tested on the PC, Waz goes Hubbard crazy in this issues 'Covenant' music article and also, Andy Roberts makes a welcome return to the pages of CZone with a brand new diary of a game! All this and MORE can be found in in this huge edition of Commodore Zone!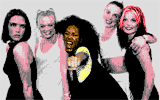 To tie in with the Rob Hubbard interview in this issue Jon Wells has produced two superb demo's exclusively for the covermount. The first is the 'Rob Hubbard Tribute Demo' which contains a great Hubbard-style tune by Jon and his second demo features various cover versions of classic Hubbard tracks. We also have 'Quota' which is a previously unreleased full commercial game by Chris Young, things get *Spicy* with the 'Spice Invaders' demo by Jason Kelk and there's also a graphically gorgeous shoot 'em up by Shaun Pearson. Contact numbers and addresses aplenty can be found in the 'CZ Directory 3' and to make gaming life easier we have 'Get a Life #8'. The covermount also contains the *full* commercial version of the 'Shoot 'Em Up Destruction Set' from Psytronik Software which is a wicked game compilation that was awarded 90% in Commodore Format!

Click here to download the two CZone #10 covermount .D64 disk images for FREE!
(The two emulator compatible .D64 disk images feature all the programs detailed above - 264kb .ZIP)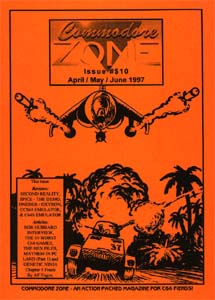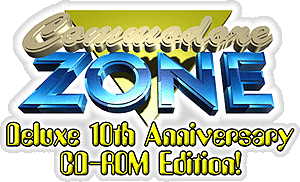 This issue of Commodore Zone is now available on the Commodore Zone deluxe 10th Anniversary CD-ROM along with all the other issues + bonus extras! You can order your copy of the Commodore Zone deluxe 10th Anniversary CD-ROM NOW from the Binary Zone Retro Store by clicking the banner below.




Return to the main Commodore Zone section.