Published in issue 48 of Commodore Format (September 1994)
---

Now this is more like it! The Commodore Format interview, conducted by my long-time chum Andy "Scampi Headgear" Roberts, was better than the Zzap! interview for various reasons. It was better planned, the questions were much more varied and the end result was (in my opinion) quite interesting and informative. It was also an incredible piece of free publicity for the Zone! Hehehe! The interview also featured some er, nice pics of myself, a bit of blurb about the C64's cameo appearance in the movie "Fortress" which I spotted and even a "Sunday Colour Supplement Type Bit" which gives some FASCINATING facts about my likes and dislikes.
Not only do we have the interview for you to check out but, thanks to the power of the Internet, you can also see those incredible photo's "as featured in CF" in full living colour! Just how exciting is THAT?! (Don't answer that!)
---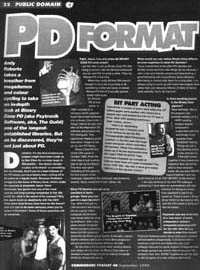 Andy Roberts takes a breather from megademos and colour cycling to take an in-depth look at Binary Zone PD (aka Psytronik Software, aka, The Guild) one of the longest-established libraries. But as he discovered, they're not just about PD. Droitwich. It's the kind of place you suspect might have been made up by Ben Elton for a cheap laugh in Blackadder - 'the demon dongle-crusher of Droitwich' or something. But no, it exists. And if you're a keen follower of the PD scene, you've probably been writing off to the place on a regular basis. Because Droitwich (snigger) is the home of Binary Zone, which, under the auspices of proprietor Jason 'Kenz' Mackenzie, has grown into one of the most popular and long-running companies in the C64 world. So, what is the secret of its success? Why has Jason stuck so steadfastly with the C64? What plans does Binary Zone have for the future? And is it hard to be taken seriously when you're based in Droitwich? Some of these questions will be answered ...
Right, Jason, how and when did BINARY ZONE PD come about?
I got the idea to set up Binary Zone PD after being in contact with the famous Compunet duo Ian and Mic for quite a while. They ran Wicked PD at the time. When they sadly left the C64 scene I thought it would be a cool idea to do something similar and carry on where Wicked PD left off (I actually typeset some catalogues for Wicked PD at one point). In 1989 I worked for a company which supplied Apple Macintosh hardware and software. One of the things I had to do was look after all the Macintosh PD software and produce the PD catalogues. This experience helped a great deal when I began to set up my own PD library.

Binary Zone PD first hit the C64 scene in October 1990. From the initial idea it took a whole year to set up the library! This time was spent compiling all the disks for the first version of the catalogue, typesetting the catalogue and producing adverts, flyers, compliment slips, labels, etc.
Many PD libraries are set up by members of demo groups. Were you ever part of a team like that?
Yup, when I first got my C64 me and a few friends set up a group called Computer World which was named after the song by Kraftwerk. After a few years various Computer World members started to leave the C64 scene so I joined the fab British group Xentrix. Eventually, various Xentrix members left to join or form other groups so I left and re-formed Computer World on the C64. By this time a lot of people were creating demos and utilities for me under the Binary Zone label so I decided to keep things simple by making Computer World an Amiga-only group.
What would you say makes Binary Zone different (or even superior) to other PD libraries?
I have noticed that some other PD libraries are terribly formal and they take things far too seriously. I offer a fast and friendly service and have built up a good friendship with many Binary Zone members after being in contact with them for a long while. I am always trying to come up with fresh new original ideas rather than just releasing millions of disks of demos (well, actualkly I try to do that too!)
Is there anything special in the Binary Zone pipeline?
Most definitely. One of the projects I am currently working on is a VERY exciting musicial release in conjunction with C64 and Amiga music supremo Paul 'FeekZoid' Hannay. Things are still at the planning stages at the moment but if the plan comes together (I love it when that happens) then you will be able to hear computer music like you have NEVER heard it before! I can't say much more as it is TOP SECRET at the moment. I am also working on my new PD catalogue updates but I have been so overwhelmed with new software it's taking me longer than expected to get things typed up. There is even a Binary Zone VIDEO in the making! Who said the C64 scene is dying out? Not me matey.
Psytronik was one of the first of a 'new wave' of small, independant software companies producing stuff for the C64. Why did you decide to enter this market?
Psytronik Software came about really quite suddenly and somewhat unexpectedly. It all started when I received a call from Jon Wells who was a tad unhappy because his game Sceptre of Baghdad was no longer going to be sold by Atlantis because that company had, erm, SUNK! Together we got the idea to sell his game on a new software label which catered for commercial software rather than PD software. Psytronik Software was then born. Once word about Psytronik Software had got out I received various letters and games from authors who were keen to get their work published but hadn't had much luck with the 'big' commercial companies who all seemed to be abandoning the mighty C64 scene.
Are you pleased with the quality of the software you've released so far?
Oh yes, and not only am I pleased but the people who buy the games seem to be happy with them. I receive plenty of letters and calls from gamers who are enjoying the software. They all seem to want one thing, though ... MORE GAMES! I hope more people get the idea to sell new commercial titles on a mail order basis because there is obviously a market for it.
You've produced a few demos and games in conjunction with Jon Wells. How did that start?
Basically, Jon got in touch with me and told me he could and sent along some examples of jis work. I was impressed with what he could do and things just progressed from there. Jon also told me he could enhance SEUCK games by adding many new effects that are not available in the editor itself. All I needed now was a good source of quality SEUCK games, and as luck would have it a talented comic-book artist called Alf Yngve specialised in them.
How did you first get in touch with Alf?
Alf sent some of his SEUCK games to another C64 magazine in the hope they would feature them on their covertape. The mag was very impressed with the quality of the games and told Alf to get in touch with me as they thought Alf's games would do very well in the PD market. Alf then sent me a tape which contained some of his games and I was literally blown away by the quality and originality of his games. I received Alf's games at the same time Jon Wells told me he could enhance SEUCK games so I quickly rushed Jon some of Alf's games and Jon got to work on enhancing the game Twin Tigers. The end result was excellent! The enhanced game appeared on CF Powerpack 26 and is also available on the Alf Yngve Collection which is a very popular games compilation tape available from Binary Zone PD.
Can we expect to see more Psytronik / Wells / Yngve productions in the near future?
At the moment Jon Wells is working on a series of games which will be released by him on the Visualize label so I'm not sure when he will next be able to produce anything for Psytronik Software. Alf Yngve has been very keen to get his games enhanced and released commercially right from the start so I have no shortage of software from him. You will just have to keep your eyes glued to the pages of CF for more news about Psytronik releases.
You recently took over the legendary Guild Adventure Software library. Why was that?
The Guild used to be run by Tony Gibbs but he decided to do a six-month course which would have meant the end of the Guild because he would have no time to continue running things. I stepped in at the last moment and offered to take over the Guild. Tony was happy at the prospect of all his hard work being continued so he basically sent me the Guild in a huge jiffy bag! This means I can now offer plenty of great adventure games to C64 users as well as oodles of splendid PD software and, of course, the Psytronik releases.
How would you describe the future of the C64, and what sort of commitment can we expect to see from Binary Zone / Psytronik?
I must admit the C64 scene has dwindled considerably during the past few years and the lack of software in the shops is a real shame. There are loads of C64's still out there and heaps of keen C64 enthusiasts but I'm not sure how they will find out about what's available for their funky machine if CF disappears for good (well that's not planned for just yet a while - Dave). I will continue to support the C64 for absolutely as long as possible and as I have over 4000 C64 members it shows that not everyone has gone to that nasty 'consoleland' place.
What are your views on consoles?
I too was caught up by the hype when the Super Nintendo was first released. I rushed out and bought a SNES but I soon realised my mistake. I was forking out £40 for games which I was completing only a few days after buying them. The ultimate example of the 'value for money' you DON'T get with a console game is this... I borrowed Super Star Wars from a friend of mine; it cost him £60. One hour and 15 minutes after I first plugged the cartridge in I was watching the final end sequence. £60 for just over an hours' entertainment! I own plenty of C64 games which I have played for MUCH longer than that and I still haven't finished them! Makes you think doesn't it...
How can people get more information about Binary Zone / Psytronik / The Guild?
Simply send two first class stamps to: Binary Zone PD. 34 Portland Road, Droitwich, Worc's. WR9 7QW. Please make sure you state whether you are a TAPE or DISK user and then I will bundle you a FREE catalogue and a life-size cardboard cut-out of Jet from the Gladiators... (actually, I'll just send the catalogue, the bit about Jet was just wishful thinking on my part). A catalogue of Amiga software is also available and it features a new Amiga 1200 section!
And your final words?
Aha! This is a good place to thank all the Binary Zone PD members for their unending support and all those amusing letters which liven up my day. I would also like to say a big 'YO'! to all the people who have coded demos, utilities and games for me. Cheerz dudes! Oh yeah, I would also like to send a cheery wave and thumbs-up to all my friends and contacts in the scene who supply the Binary Zone with a constant stream of truly excellent PD software. Long live the Commodore 64!
---
Return to the main interview menu